Introducing
Thomas Lauderdale meets The Pilgrims!
This album is over 25 years in the making! Pink Martini bandleader Thomas Lauderdale's rumored collaboration with legendary surf music sensations, Satan's Pilgrims, was lost in the mists of time. Now, this long-awaited album, recorded concurrently with Pink Martini's seminal debut "Sympathique," is finally seeing the light of day. Buoyed by Lauderdale's sparkling piano fireworks atop the Pilgrims' iconic surf music sound, the album features blazing interpretations of beloved standards such as "Night and Day," "Malagueña" and "Rhapsody in Blue" alongside dazzling classic surf excursions, to create the perfect summer party record you can play all year round. 
Track listing: 
Rhapsody in Blue 
Bali Ha'i 
Tall Cool One 
Night and Day 
How Great Thou Art (O Store Gud) 
Girls on the Beach 
Malagueña 
Out of This World 
Ue o Muite Arukou (Sukiyaki) 
It Had Better Be Tonight (Meglio Stasera) 
Calcutta
Listen to the single of Malaguena here!
Listen to the single of Night And Day here!
*************************************** 
RELEASE DATE: MAY 19, 2023 
15% OFF PRE-ORDERS 
***************************************
"satan's pilgrims live at jackpot records" RSD Release! Now available in our store!
In the spring and summer of 1999, Satan's Pilgrims were awaiting the release of their self-titled fifth album. 
During that time, an in-store performance was recorded live at Jackpot Records on June 13, 1999 onto a mono cassette recorder. Since they were promoting a new album which was yet to be released, none of those songs had been performed in front of a live audience before. Both Jackpot Records and Satan's Pilgrims agreed that this lo-fi boombox recording should be released as-is and sonically unaltered, since it really captures what it was like to be standing a few feet in front of the band vibrating the entire block. 
What could be more "Record Store Day" than an album recorded IN a record store? 
Mastered by Black Belt Mastering (The Germs, Green Day, Pearl Jam). Includes a show flyer from the performance. 
Limited to 1,500 copies. 
Available at Jackpot Records & other indie record stores nationwide on Saturday April 23rd!
New Digital Single "The Dredger" Featuring All 5 Original Pilgrims Available Now From Hi-Tide Recordings!!
Click Below to Buy/Listen/Share
Ride Free Dave Pilgrim (Busacker)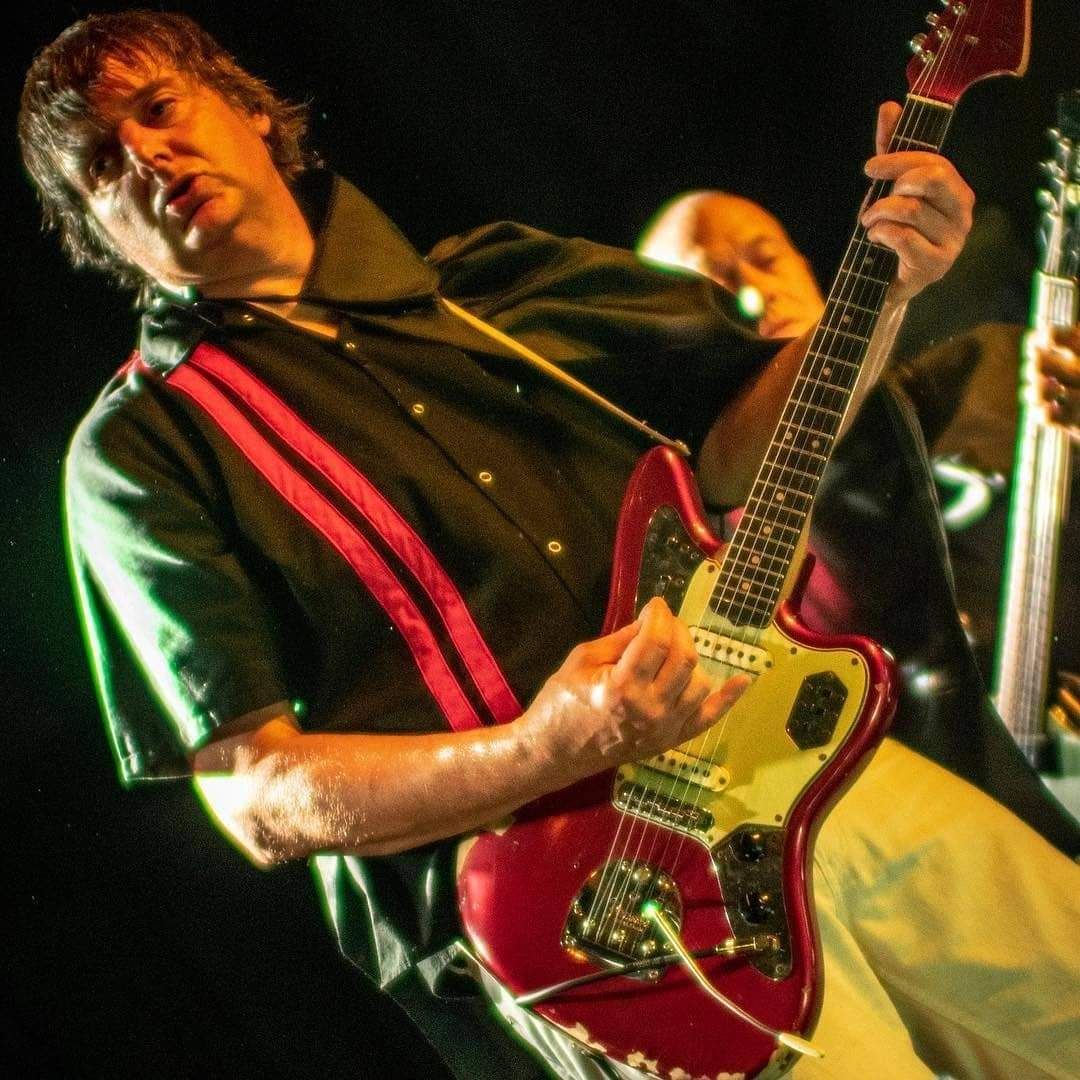 Photo by Andrew Kvenvolden
We have a hole in our soul. We lost our brother Dave on March 30, 2021. Thank you for the outpouring of love and good thoughts. We love you, Dave Pilgrim.
Many of you kind folks have asked about helping with funeral expenses, sending flowers, or making a donation in Dave's name. Working with his surviving family, we have decided that the best way to honor Dave is donations in his name, Dave Busacker, to the public music education fund of the Oregon Music Hall of Fame. Virtually all of their proceeds go to these scholarships. Dave's mother taught piano in the Portland Public Schools for many years and Dave would prefer this over flowers . Thank you all very much for all of the kind messages and posts on social media. Dave loves you all!
https://www.omhof.org/want-to-donate-to-oregon-music-hall-of-fame/
David Scott Busacker
Aug. 12, 1963 - March 30, 2021
Dave 'Pilgrim' Busacker passed away March 30, 2021 of natural causes at his home.   Born in 1963, the son of Earl and Virginia Busacker and brother to Karlin Jan Busacker and Timothy Jan Busacker, Dave began his journey to become one of the most celebrated local rock musicians in Portland.  Dave was first introduced to music by his mother, Virginia, who was a longtime music teacher in Portland Public Schools.   He first started playing piano and cello.   As he grew up, Dave founded several bands with his schoolmates and friends.   He played bass guitar in his first band, Matisse Video.  From there, he went on to play lead guitar in the soul-laced trio named the Soulmongers and later as Dial Memphis.  In his early and adult life, some might describe Dave as bashful, but when it came to music, he became more confident and outgoing.
In 1992, Dave would go onto become an internationally acclaimed guitarist and keyboardist in the surf band, Satan's Pilgrims, and would record eleven full length albums and dozens of singles with them, writing and co-writing much of their repertoire. Right before his death, Dave had just finished his tracks on two full length Satan's Pilgrims albums that will be coming out later in 2021, further cementing his legacy. The first is the long-awaited collaboration album "Thomas Lauderdale Meets Satan's Pilgrims" with the pianist and leader of Pink Martini. Work on this album started back in 1996, resumed in 2011, and with Pink Martini not touring the world due to the pandemic, Thomas and the Pilgrims were finishing it up this spring of 2021. Satan's Pilgrims have also been working on their own album during the pandemic and Dave had completed his parts for that project the week before his passing.
The band has always had a loyal Portland following and played many Portland venues through their thirty-year history, including the re-opening of the Crystal Ballroom, La Luna, The Wonder Ballroom, Satyricon, Berbati's, Kenton Club and The X-Ray Café. Dave always loved and was proud to be in a Portland band and that the city was always so supportive while he also had fans around the world.
Satan's Pilgrims did two tours of Europe, including headlining the Surfer Joe Festival (the largest surf music festival in the world) in Livorno, Italy in 2015. In 2017 they played the Wild o'Fest festival in Mexico City, along with Northwest garage rock heroes, The Sonics. Dave was really looking forward to Satan's Pilgrims headlining the Surf-O-Rama Festival in Valencia, Spain in May of 2020, but along with a return to Mexico, both events were cancelled because of the pandemic. The influence of Dave's guitar playing, and Satan's Pilgrims music has reached fans and musicians all over the world. Their songs have been covered by bands from all over the US, Argentina, Mexico, Italy, and other countries. Since his passing, there has been a great outpouring of love and support from musicians and fans from all over the globe, citing the importance of Dave's musical influence.
In the 1990s, Dave was also a founding member of other bands while still in Satan's Pilgrims, including playing organ in The Chimps (a Northwest garage band with the members of Satan's Pilgrims), guitar for The Brothers E. double Elvis tribute band, and the hard rock band Baller. In the 2010s, Dave helped to start The Pynnacles, a psychedelic garage band with Scott and John from the Pilgrims, and Sean Croghan along with Thom Sullivan and Tamar Berk. The Pynnacles became another local Portland favorite and Nuggets Night stalwarts. More recently, he played in The Guildsmen with Scott Fox from the Pilgrims and Dave Berkham of The Reverberations.
When he wasn't playing music, Dave loved vintage American cars from the 60s and 70s and over the course of his life, drove a Mercury Cougar, and a Chevrolet Impala Super Sport Convertible. Dave also loved the Oregon Coast, traveling and trying different foods while touring the US, Europe and Mexico. Dave spent most holidays and vacationed with his Pilgrim family and loved those times as well.
Dave graduated from Wilson High School and attended Portland State University and University of Oregon in Eugene and received a B.A. from U of O.
Dave is survived by cousins Marcia Borland, Curtis Conklin, Sharon Hemstreet, Janice Baker, Alan and Dale Busacker, Brian Busacker, Sheryl Gray, Renee Martensen, Lee and Marty Hartfield, Vic, Mark and Paul Petroff, and Karen Ecklund. Dave is also survived by his closest friends and bandmates, including Ted Miller, Scott Fox, Robert McAnulty, and John Cox.
A celebration of life will be scheduled in the coming months. Please consider sending donations to the Oregon Music Hall of Fame  which awards yearly scholarships to selected Oregon high school seniors who have exhibited serious pursuit and accomplishment in their personal musicianship and who are college-bound music majors.
https://www.omhof.org/want-to-donate-to-oregon-music-hall-of-fame/